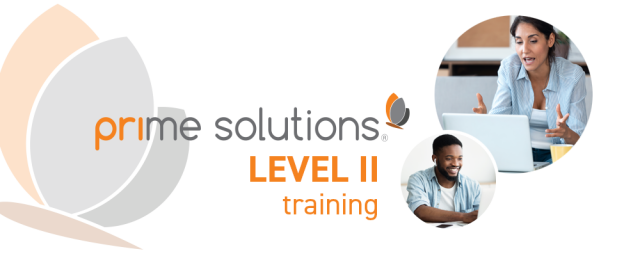 Prerequisite: Prime Solutions Level 1 Training.
Prime Solutions Level II Training involves 6 small group sessions via Zoom, 2 hours each, over the course of 6 weeks. The Zoom sessions are a dynamic blend of reviewing client interactions, exploring session readings, and exercises designed to enhance and maintain practitioner skills.
What do you need? A computer, internet access, the time to participate and the desire to learn; we'll supply the rest.
The fee for this training is $495 and covers the materials that will be shipped to you prior to the first session. Please note, for approved Georgia providers affiliated with Department of Behavioral Health and Developmental Disabilities and those with the military, the fee is $400.
Participants should expect to spend an additional 90 minutes each week completing readings and other activities. As part of those activities, participants will provide at least one audio recording of a work sample and will receive individual feedback and coaching via Zoom.
Participants are required to attend all six sessions (May 5, May 12, May 19, June 2, June 9). Times of each session are 1:30 PM - 3:30 PM ET.