These are live-hosted, screen-to-screen Continuing Education Sessions with PRI Trainers. Most sessions will be 90 minutes long and presented via Zoom. We'll launch a new series of sessions each month so you can customize your training schedule to collect the hours you need.
Please note that you are responsible for ensuring online PRI sessions and the number of hours earned fulfill your system's requirements. Credentialing requirements for online sessions stipulate that all participants must (1) individually register, and (2) log into the online session on their own computer to receive credit/hours for attending. Learners who participate in an online session via shared computer login will not receive a certificate.
Once you've signed up, we will send you a confirmation email. The day before your session, you'll receive a link to register for the Zoom meeting and your meeting login information. When your session date arrives, log into the meeting, turn on your camera, and join us for a great live training. We look forward to seeing you then!
If you have trouble finding your login information or getting into a session, please contact us!
---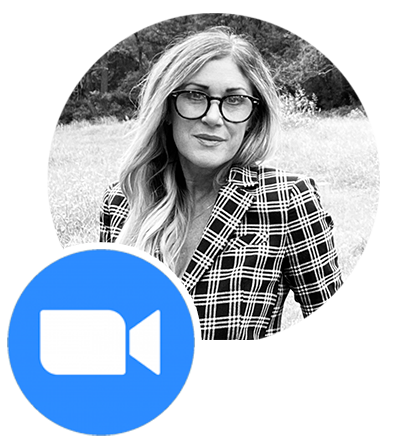 Zoom Zoom
with Michelle Stephen Seigel
The COVID-19 pandemic caused a seismic shift in how Prime For Life instructors and Prime Solutions practitioners provide services.  With the sudden shift to virtual services, practitioners were required to learn new ways of doing their essential work, but with limited guidance about how to make those sessions work.  Prevention Research Institute began providing virtual training services in the addiction treatment field in 2012, and like everyone else learned a lot about the delivery of virtual services in 2020.  This session will focus on pragmatic questions of how to do these services, with practical suggestions about what helps and what interferes with client engagement, how to prevent problems, and how to manage it when challenges arise. Because learning is at its best when the learner is highly engaged, the instructors will use a dynamic blend of didactic teaching, discussion and activities to explore these issues.
TUESDAY, FEBRUARY 16, 10:30AM - 12:00PM

ET

THURSDAY, FEBRUARY 18

, 6:00 - 7:30PM ET

TUESDAY, FEBRUARY 23, 10:30AM - 12:00PM

ET

THURSDAY, FEBRUARY 25, 6:00 - 7:30PM

ET - View details & register
---

What is Motivation?
with Dr. David Rosengren
As Prime For Life (PFL) instructors and Prime Solutions (PS) counselors, we help people consider the possibility of change in their alcohol and drug choices and yet we rarely stop to consider the fundamental question, what is motivation? This session will focus on answering that question and then building on these insights, then asks an equally important question: how do we understand our role in participants motivation?  Participants will learn about the motivational continuum, the three basic psychological drives contained within Self-Determination Theory, and how PFL and PS fit with these.  Because learning is at its best when the learner is highly engaged, the instructor will use a dynamic blend of didactic discussion and activities to elicit participants' thinking on these core issues.
FRIDAY, FEBRUARY 12, 11:00AM - 12:30PM

ET

WEDNESDAY, FEBRUARY 17, 6:00 - 7:30PM

ET

THURSDAY, FEBRUARY 18, 4:00 - 5:30PM

ET

WEDNESDAY, FEBRUARY 24, 12:00 - 1:30PM

ET - View details & register
---

Dialogues with Derek: Special Guest Tom Frostman


with Derek Jorden
Inspiration for change comes in many forms. One of those is in the faces and lives of people all around us - some who pass through our lives quickly, and others who travel the journey with us. The stories we share with one another can have an immense impact on the choices we make, sometimes simply by reminding us we are all at risk and sometimes by highlighting a different path. Here, PRI's Derek Jorden sits down with retired PRI legend Tom "Frosty" Frostman, the man who responded to Derek's letters from prison, for a deeper look at the impact they had on each other's lives, what led to their coming together, and what has come of it since. Together, they will review the role of compassion and community in delivering Prime For Life, how self-disclosure can influence our participants' experience, and the incredible power that resides in the intersections of our lives.
THURSDAY, FEBRUARY 11

, 3:00 - 4:30PM ET

TUESDAY, FEBRUARY 16, 1:00 - 2:30PM

ET

MONDAY, FEBRUARY 22, 6:00 - 7:30PM

ET

THURSDAY, FEBRUARY 25, 1:00 - 2:30PM

ET - View details & register